House Masters Mini Mix
Posted on June 14, 2011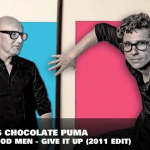 Here's a mini mix with some of the tracks that will appear on our forthcoming House Masters compilation.
It gives you a sneak peek of stuff like 'The Good Men – Give It Up 2011 Edit', 'I Wanna Be U Rework & CP's Bass Drop Remix', our 2011 remix of 'Boris Dlugosch – Never Enough' and some others.
House Masters – Chocolate Puma out July 11th 2011, so hold tight!